CHRISISMS
A fortnightly pearl of wisdom to fast track your success
CHRISISM #52 - The Importance of a Daily Target
17 October 2017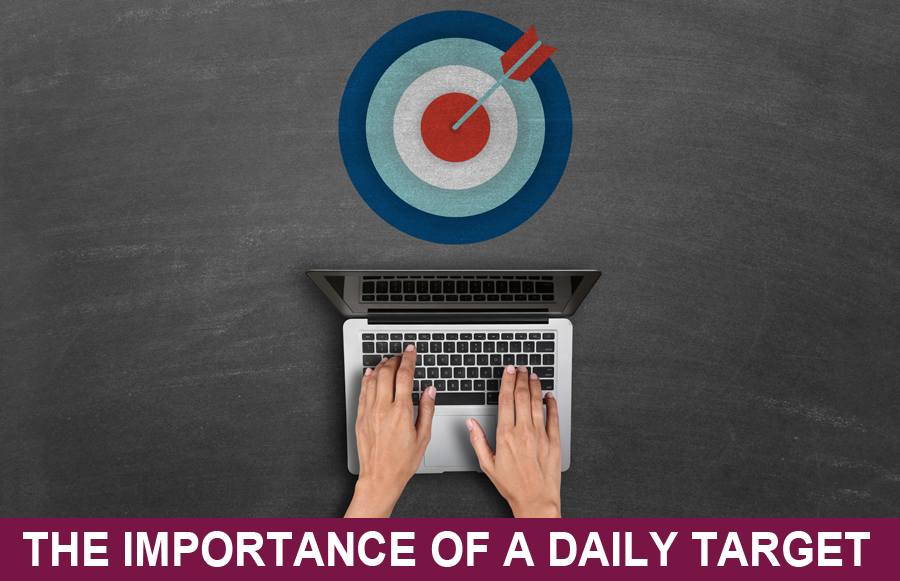 Do you finish every single working day knowing whether you have succeeded or failed? If not, then maybe you need to break down your primary personal financial goal into bite size portions.
In Chrisism#27 we identified the importance of having a primary personal financial goal which meets all the necessary criteria of a goal. The beauty of our business is that once we have a definable dollar figure that we are looking to accumulate or a definable level of income that we are looking to achieve, then we can break it down to a definable amount of revenue that we need to generate on a monthly or a weekly basis in order to achieve the clearly defined goal within the required timeframe.
Because we are at the whim of the vagaries and unpredictability of people in our business, it is dangerous and inappropriate to measure our daily targets in the form of achievement, as inevitably a month will be made up of good days and bad days as far as actual results go. However, over a period of time, the good days and the bad days tend to even out from a results perspective, so we can be pretty confident in basing a monthly target on a certain level of achievement i.e. results.
When it comes to a daily target, however, we would be well advised to talk in terms of a minimal level of activity rather than achievement, since our activity is something that we can control on a daily basis. Furthermore, provided we are putting in the required level of activity with the right attitude (see Chrisism#28) on a daily basis, then we can be confident that we will achieve the desired end result over a period of time – especially if we are basing the anticipated results on a current or historical set of conversion rates, given that we should be improving those conversion rates as we get more experienced.
So what is the most appropriate type of activity by which we should be measuring our daily target? Given that our success in our financial planning businesses is typically measured by the number of clients that we have coupled with the amount of business those clients are doing, it would seem that the catalyst for any business being written is an appointment with a prospect or a client where the aim is to set up another meeting or conclude business. Either way, the activity target should be expressed either as prospecting calls made or appointments generated or both.
I remember when I first started in the business, we had to keep a daily call sheet (40 calls a day!) as well as a daily activity sheet, which recorded first appointments made, first appointments seen, second appointments made, second appointments seen, business written and referrals obtained – all on a daily basis! The beauty of keeping all these stats was that you could measure your conversion rates all the way through the process and thereby turn the business pretty much into a science. After all, what you can measure, you can manage.
The commitment to your primary personal financial goal (remember the word irrespective?) means that you never finish your working day until the minimum activity level has been achieved, and if you complete the minimum activity level early, then it's your choice whether you take an early mark or whether you get a head start for the following day's minimum level of activity.
If you have found the content of this Chrisism beneficial, imagine how much value you would get from a whole day full of my "Pearls of Wisdom"! Register now for my "Sales Skills for Financial Planners" workshop in your capital city and benefit from the early bird discount.

Register for your City using the links below.
Cost: $495 + GST per person
Earlybird: $440 + GST per person
Time: 9.00am – 4.30pm
Brisbane - Wednesday, 15 November
Sydney - Wednesday, 29 November

Melbourne - Friday, 1 December
Adelaide - Tuesday, 5 December
---
The Risk Workshop by Chris Unwin

Are you a financial adviser who would like all of your clients to have appropriate types and levels of personal protection? But perhaps you feel you need a more structured and client friendly engagement process?